We aim to support local suppliers in the North Island of New Zealand wherever possible, but where it isn't, we ensure we are working with the most sustainable suppliers in New Zealand. Below are some of the suppliers we work with and their sustainability stories.
Awhi Farms is an ancestral collective of close-knit Māori families in New Zealand's North Island, at the foothills of Mount Ruapehu. At a time when modern farming aims to extract as much as possible from nature, they walk a different path. Awhi's goal is not just to farm their 1,000 hectares (about 100,000 acres) of land sustainably, but to rejuvenate it. They are working on a 1000-year environmental plan, establishing native trees protection areas, planting erosion prone land with Manuka trees and creating wildlife corridors.
Sustainability sits at the heart of the Sanford Seafood business. They understand their environmental, economic and social choices have an impact, now and in the future. They are committed to a sustainable future for their business and stakeholders, their people, customers and communities. Sanford's vision is to be the best seafood company in the world through the sustainable growth of their business, and they embrace the contribution they will make towards achieving the United Nations Sustainable Development Goals. More information can be found in their Sustainability Policy.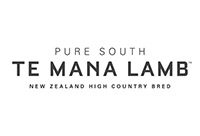 Free roaming in the high country of New Zealand, Te Mana Lamb is 100% free farmed. The unique combination of new breed, rearing location and conditions, farming practices and finishing grazing on chicory herb pasture for 30 days, has led to naturally high levels of healthy Omega - 3 and polyunsaturated fats.
The Fermentist has created the Kiwi Pale Ale which is New Zealand's first Carbon Zero beer certified by Enviro-Mark. They take all of the emissions from the entire lifecycle into account, from the fertilizer used to the grow the grain, to the refrigeration in the consumer's home. carboNZero certification means they have put a mitigation plan in place and committed to reducing the carbon footprint of this beer. For the relatively small carbon footprint that remains, they are offsetting it through purchasing certified carbon credits to support native forest restoration efforts at the beautiful Hinewai Reserve on the Banks Peninsula.
In 2018 Chia Sisters became New Zealand's first solar-powered juicery. They have put enough panels on their little juicery in Nelson to harness 16kw of energy per hour from the sun - double the amount needed to run the juicery. They send what they don't need back to the grid. They also have committed to being not only carbon neutral but climate positive. This means the overall activity of Chia Sisters reduces carbon in the atmosphere. This is their Sustainability Story.
As New Zealand's only Toitū carbonzero certified winery since inception, Yealands are committed to ongoing emissions reduction. Their ultimate goal is to generate enough energy to become self-sufficient. While they generate their own renewable energy, they measure all of their carbon emissions from tractors in the vineyard to the packaging and shipment of their wines and set targets and strategies to reduce these emissions.
Plus they have the cutest miniature helpers - they have introduce Babydoll sheep to graze the wine rows, which reduces the use of tractors and also provides a handy does of natural fertiliser.